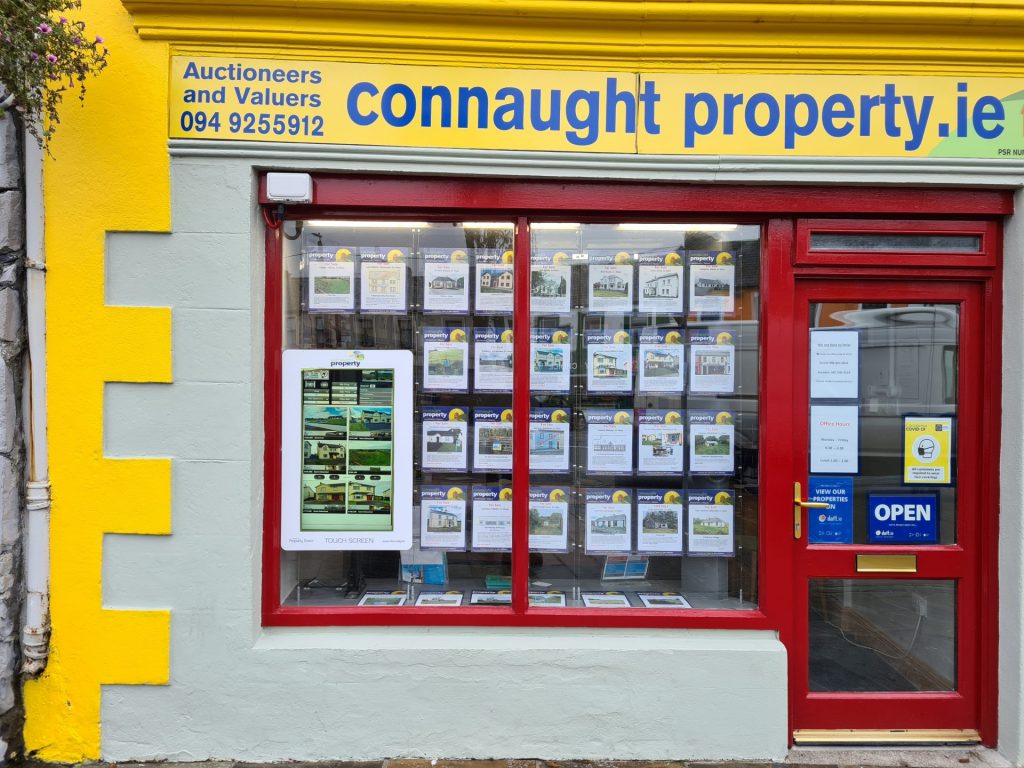 Connaught Property is owned and run by Brendan Kenny and David Tarpey.
DAVID TARPEY
A native of Aghamore, and now living in Kilkelly, David is a well-known figure in and around the East Mayo area and has accumulated an extensive knowledge of the property market in the region over the course of his many years of service.
Coming from humble farming beginnings, David graduated to establish and run a successful wholesale fruit and veg business, before making the switch to what is his current area of expertise, the property market.
His passion for the property industry led David towards establishing "Connaught Property". In 2019, he joined forces with fellow property enthusiast and auctioneer Brendan Kenny, (formerly of Kenny Auctioneers) with a shared objective to become market leaders in their respective field and take Connaught Property to new and exciting places.
Over the years, David has accumulated a wealth of knowledge in the auctioneering industry, be it in sales, valuations, or rentals. He prides himself in providing a professional, friendly and client focused service, with good advice always on offer too.
BRENDAN KENNY
Brendan Kenny, a Charlestown man by birthright, has lived and worked in the region all of his life. Prior to fulfilling his ambitions of working in the property market, Brendan was employed as a sales rep for Harrington Concrete amassing a 26-year service for them, over a period spanning across 3 decades.
Brendan though, always had a passion for the property industry, and upon receiving his auctioneering license in 1997, established "Brendan Kenny Auctioneers", and worked out of Market Square, Charlestown. It later rebranded as "Kenny Auctioneers" and it grew to become one of Mayo's most respected and progressive estate agencies.
In 2019, Brendan joined forces with fellow property enthusiast David Tarpey, and they now both trade under the name of "Connaught Property". They work out of their offices in Market Square, Charlestown, Co Mayo.
Brendan prides himself in offering excellent client service, exceeding client expectations, while at all times maintaining the highest level of integrity and professionalism.
---
Connaught Property aims to provide a professional, modern approach to selling property in the Connaught region.
The name Connaught is used not only to emphasise our regional location but also as a corporate name and brand that will allow us to compete with established brand names in terms of marketing, advertising and image.
Our local knowledge, focus and premium service will ensure that we take every step to make selling your property with us is a straightforward and painless exercise.
Through our strong brand, as seen on our saleboards and advertising materials, we have created what we feel will be a strong presence in the West of Ireland property market for many years to come.
If you are buying or selling we are here to assist.
Connaught Property are now in partnership with Connaught Property Auctions.
The Connacht Property Auction is a network of established Estate Agents across Connacht who offer online and live auction services. We offer a local auction facility with truly regional exposure and use the Modern Method of Auction which is an effective way to achieve a quick and secure sale.
The Connacht Property Auction provides the following benefits:
Sellers Reserve: agreed minimum walk-away figure
No Entry Fees
Non-refundable Booking Deposit
Fixed Dates to Sell & Move
Greater Levels of Viewings & Interest
Guaranteed Current Market Value
Expert Advice
---
No Obligation Free Property Valuation
If you are interested in selling your property at auction, contact us today to discuss all the details.
https://connaughtproperty.iamsold.ie/
Call David Tarpey on 086 8436064 or Brendan Kenny 087 2404533 today to arrange a meeting.